In 1996, in a journal aptly titled "Bone", the gloomy prospects for an every increasing number of hip fractures world-wide were detailed in an article entitled "Epidemiology of Hip Fractures".  2 decades ago, in 1990, there were an estimated 1.66 million broken hips yearly, world wide.  This number is projected to increase to 6.26 million fractures per year by 2050.  That represents a huge increase!  If there is one thing that orthopedic surgeons are sure of, they are going to be treating more hip fractures in the future than they are now.  Part of this increase is attributable to a dramatic increase in the elderly population of the world as society as a whole ages, but it is also troubling to note that the age-adjusted annual rate of hip fractures is increasing as well.  Compared to one or two generations ago, the elderly today are much more likely to sustain a hip fracture than their parents or grandparents when they were the same age.  This change seems to be more pronounced in men and the exact reasons why are not completely understood.  It is speculated that the elderly today have less bone quality in terms of strength and mineral density than previous generations, and they may be more likely to fall.  It is tempting to think that this is due to the fact that supervised care environments may result in residents getting less weight-bearing exercise and sun exposure than the elderly who are left to their own devices or who live in relatively rural settings.
Here are a series of images that illustrate a couple of key concepts regarding why the elderly sustain so many hip fractures.  #1 — the muscle that surrounds the hip and protects it during falls tends to melt away as we get older.
#2 — the bone gets weaker with time.  In the first microscopic image of the bone we see that the microscopic architecture of bone is comprised of many interconnecting buttresses and arches.  With osteoporosis, these connections get weaker and thinner and the bone simply has less strength.
#3 — the elderly have certain gait patterns that make them more likely to fall.  In this classic image of the three ages of osteoporosis we see a young woman in her 30′s her mother in her 50′s or 60′s one step ahead of her, and her grandmother in her 70′s or 80′s two steps ahead of her.  With time, the spine collapses forward, the gait becomes less steady, balance and coordination deteriorates, and peripheral vision decreases.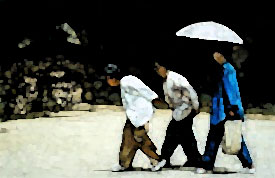 Surprisingly, the forecasts for an increase in the rate of hip fractures suggest that since Asia, Latin America, the Middle East, and Africa will see the greatest transformational shift towards an aging society (since Europe and North America are comparatively already elderly) these regions will account for more than 70% of the 6.5 million hip fractures that are expected to occur by 2050.  Currently, the highest rates of hip fractures in the world occur among Caucasians of Northern European and North American societies.  In the general population in Finland, for example, approximately 1% of the population over the age of 70 experiences a hip fracture each year.  If you look at the subset of nursing home residents only, that number increases to a 6.2% annual incidences for women and 4.9% annual incidences for men.  Over the course of a lifetime for someone born in Europe or North America, the risk of sustaining a hip fracture at some point is about 20% in women and about 5-6% in men.  Hip fractures have always been largely a female disease since the rate of bone loss is dramatically accelerated in post-menopausal women, and there may be some anecdotal evidence to suggest that women fall more frequently than men.  When they do fall, women are statistically more likely to fracture a hip because they have less of a bulky protective muscular envelope surrounding their bones.  Today, about 75% of all hip fractures occur in women.  For the complete reference — click here.
Hip fractures are an enormous problem for everyone involved.  For the patient, they are faced with the pain and suffering caused by the break and the arduous process of rehabilitation at a point in their life where their capacities are often diminished.  For the family, a hip fracture often heralds a further loss of independence that may require everyone to adjust.  And for society, caring for patients with hip fractures consumes a significant number of days in the hospital, time in the operating room, and dollars spent on health care.  Hip fractures are also an event that tends to occur toward the end of life.  As a general rule of thumb, the average elderly patient who sustains a hip fracture has about a 50% chance of passing away during the next two years.  Sometimes as a result of complications from the fracture, such as period of immobility, and pneumonia, or a bed sore that developed while they were convalescing, and sometimes as the result of other causes.  The goals of hip fracture surgery can include things as simple as pain relief, but in general, the best outcome is achieved when the patient is able to return to the same level of functional independence that they enjoyed before the fall and the fracture.  Unfortunately, research shows that this outcome is not always achieved.  In many cases, a hip fracture represents a step-wise loss of functional independence such that if the patient walked without an assistive aid beforehand, they may require a cane or a crutch afterwards, if they walked with a cane or a crutch beforehand they may require a walker afterwards, and if they were using a walker before the fall, they may require a wheelchair afterwards.